Integrated Informatics Platform
What makes the Lab7 ESP an Operating System for Your Lab?
LIMS
Customizable and intuitive sample, experiment, and protocol management enables rapid assessment of lab operations.
ANALYSIS PIPELINE MANAGER
A robust task-graph based pipeline manager enables rapid development and deployment of pipelines using any analysis tools.
REPORTS & VISUALIZATION
Create customized actionable reports from analyzed data and visualize results in genomic context.
RESOURCE MANAGER
The platform's underlying architecture provides deep provenance, monitoring, and security structures ideal for regulated environments.
Streamline your lab operations
Utilize your current methods and implement new ones with confidence
You operate the way you want, we'll handle the rest
We understand that in most labs, the same samples travel through multiple systems. These disjointed systems become a problem, particularly for lab managers who need holistic insight, IT staff who have to manage the multiple systems, and end users who need specific reports.

We created a flexible end-to-end platform that prioritizes a streamlined workflow, the ability to comply with any standards, and strong data provenance. Lab7 ESP handles data from the time it is collected, through processing, analysis, and reporting, and until the indefinite future when it will be queried years after laboratory studies are complete.
Learn More About Lab7 ESP
Reduce technology costs

Facilitate common tasks

Improve Visibility

Keep track of everything
The Lab7 Team
Industry veterans from the worlds of Bioinformatics, Genomics, and Software
Vasu Rangadass
President & Chief Executive Officer
A seasoned Healthcare IT executive, Vasu most recently led Net.Orange to an acquisition by NantHealth, where he served as Chief Strategy Officer. Vasu holds a BS from Osmania Univ., an MS from Texas A&M, and a Ph.D. from UT Arlington.
Chris Mueller
Chief Technology Officer
Chris founded Lab7 having led Informatics at Life Technologies. He's developed commercial & Open Source software in Industry & Academia. He has a BS from Notre Dame and PhD in CS from Indiana University.
Varshal Davé
VP Sales and Marketing & Chief Product, Positioning, Promotion Officer
Varshal has 15+ years of life science marketing & sales experience, having led Genomics at Molecular Devices. Trained at UT Southwestern in Dallas, Varshal has a MS in Biology from UT Arlington, and an AB in Chemistry from Duke University.
Cheng Lee
Principal Software Architect
Cheng designed the back-end architecture of the Lab7 ESP. Prior to Lab7 he was a database analyst and bioinformatician at the University of Texas Southwestern Medical Center. He holds an MSEE and BSEE from the University of Texas at Dallas.
LATEST NEWS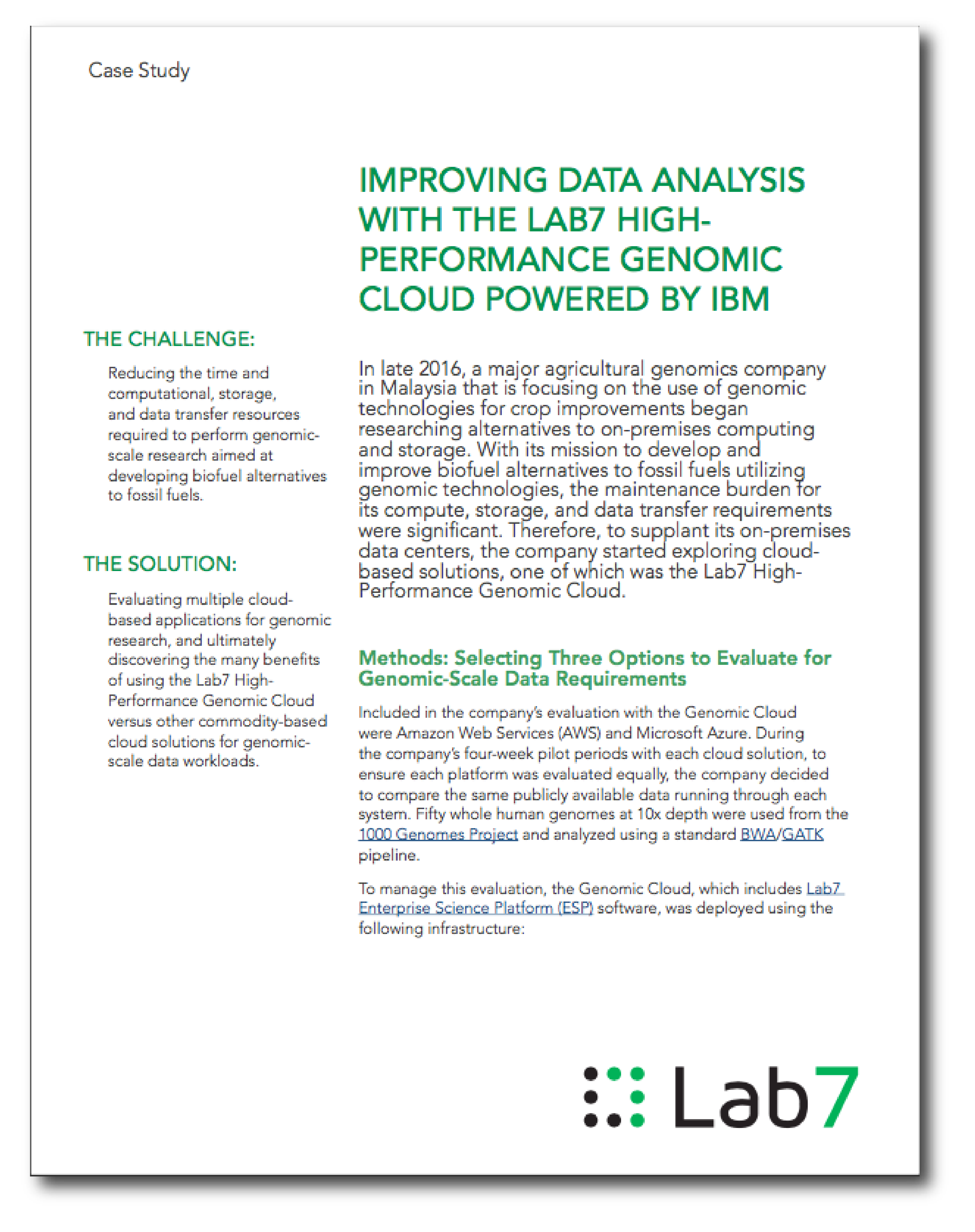 A major agricultural genomics company in Malaysia was facing a significant maintenance burden from on-premises data centers, prompting it to explore cloud-based solutions in late 2016. The company needed to reduce its turnaround time and its computational, storage, and data transfer resources for performing genomic research aimed at developing biofuel alternatives to fossil fuels.

As mentioned in our previous blog post, Stop Managing Your Instruments and Software Platforms Independently, scientific labs are resorting to using a variety of manual methods for data management and collation. As a result, labs often experience poor record keeping regarding the "who, what, when, where, and how" of experiments, effectively making management of data provenance not [...]
Previous
Next